"

Introducing an Indigenous Voice in Canadian Music" - Globe and Mail
Bio
Ottawa's Cody Coyote is of Ojibwe/Irish descent with ancestry from Matachewan First Nation. With his fusion of strong, profound lyricism accompanied by corresponding influential sounds such as his song "Debwe", this multi-award nominated, and award winning Hip-Hop/Electronic/Pop artist commands his listeners' attention by delivering mesmerizing performances.  
Coyote's newest music video, There Tonight (September 29th, 2023) shares a story of a woman who is experiencing abuse from a partner and a friend who has been a witness to it. 
"In recent years I had done much reflection and thought about making more of a thought provoking impact with music videos" says Coyote. "I felt that There Tonight would be the perfect song for this and after teaming up with Ben Telford Visuals, Jacqueline Buffalo and Steven Thompson, we were able to achieve that goal while drawing attention to an issue that needs to be spoken about."  
With recognition for creating positive change in the world, this dedicated artist won the award for Ottawa's Best Hip-Hop Artist at the 2023 Ottawa Awards hosted by FACES Magazine, CTV and Mattamy Homes Canada. Previous to that he had reached number 1 on the Indigenous Music Countdown with "There Tonight" in August 2022, number 7 with his song Helpless in February 2022 and number 1 with his song Manidoo Dewe'igan in January 2020. His subsequent release 'Lovely', released in spring of 2023, was heard on airwaves around the world including France, the UK, Italy, USA, Mexico, Brazil, Israel, Germany, Switzerland, Spain, Australia, Greece, Croatia, Hungary, The Netherlands, Belgium and more.
Outside of music, Cody Coyote is also a motivational speaker, workshop facilitator and is the host of "The Beat" on elmnt fm owned and operated by First People's Radio Inc. (Ottawa/Toronto).  
"The community work I do is really what drives me and has allowed me to become passionate about initiating positive change in the world today." says Coyote. "I want the future generations of this world to ultimately feel empowered and seen."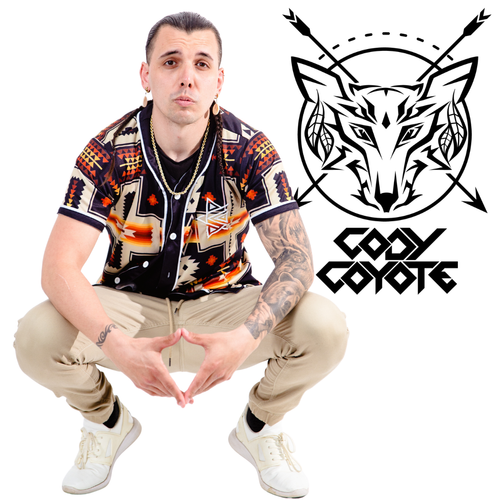 ACHIEVEMENTS
- Nominated for Rap/Hip-Hop/Electronica Album of the Year at the 2023 Summer Solstice Indigenous Music Awards
- "Ottawa's Best Hip-Hop Artist" at the 2023 Ottawa Awards
- Co-hosted The National Centre for Truth and Reconciliation's "Gidinawendimin" event on September 29, 2022
- "Ottawa's Hip-Hop Artist Of The Year" at the 2022 Ottawa Awards 
- 2021 International Indigenous Hip-Hop Awards Show "Best Male Hip-Hop Artist Of The Year" 
- Nominated in "Radio Song Single Of The Year" category at the 2021 Indigenous Music Awards 
- Nominated for "Youth Leadership In Music" category at the 2021 Indigenous Music Awards 
- Recipient of the Ontario 150 Award